Miles City Showcase - Click to see more!

Shaun with Dr. Ron Gill! One of this world's most renowned Beef Experts
For over 20 years Ron Gill has provided technical expertise in beef cattle nutrition, management and handling to livestock producers all over the world as livestock a specialist for TEXAS AGRILIFE EXTENSION.

Brenda Bippert NEW YORK Cattlemen's Association Executive Secretary and Shaun at Empire Farm Days in Seneca Falls, New York!

Shaun with Speed Williams at the NFR in Vegas!

"I'm Queen of the Castle!" - This is what happens when you funnel your alley right to a waterer and leave them nowhere else to go!

Turner Bison on a Cancrete!

Shaun and some of the members with the Colorado Junior Cattlemen's Association at the 2015 Convention in Steamboat Springs, CO. Cancrete donates a tank, Raffle proceeds to go towards Scholarships! This year $2800.00!!!

Shaun with Temple Grandin at the Denver Stock Show

Cancrete C250 at -28F Watering 180 head. Howard, North Dakota

York FFA (Future Farmers of America) which we sponsor at our Trade Show Booth in West Point, NE!

Shaun with Baxter Black in Iowa
Cancrete supports breast cancer awareness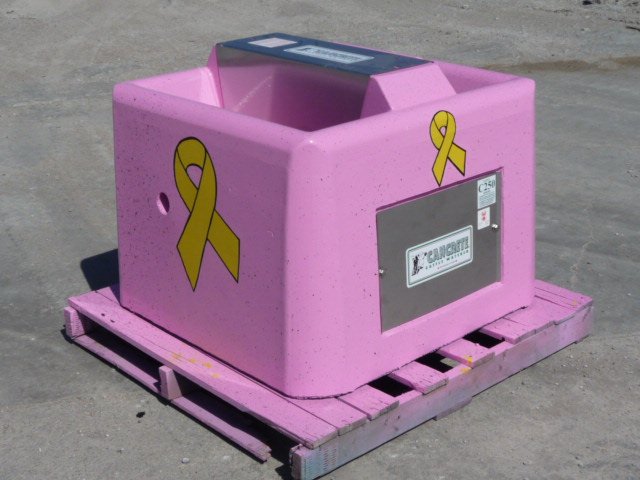 This Cancrete bowl was donated to the Cattlemen's Ball in Nebraska to help fund Cancer Research
CANCRETE FUTURE CUSTOMERS!
Don't make a purchase, make an investment!
All cattle waterers are not created equal. Cancrete® has been engineered to withstand harsh winter, hot summer and heavy use by exotic animal, equine, dairy, cow/calf and feed yard producers.

This waterer can withstand the abuse of your climate and the cattle! Proven success in all the major feedlots, Cancrete® comes out on top.


Regardless of the amount of livestock and herd size, Cancrete® has a model suited to your needs.






Regardless of the amount of livestock and herd size Cancrete has a model suited to your needs. With Extremely low maintenance you can be assured that whether its a small Cow Calf operation, a large feedlot with several hundred cattle or a dairy farm Cancrete Waterers are going to make watering easier for you.

Cancrete Waterers are Reliable in all types of temperatures from 100F to -40F. After all the last thing you want to worry about is Freezing Water at -40 or Dehydrated animals at 100F.

Setup a Cancrete Waterer in your Pasture or in a Pen and let us take care of your Cattle, Bison, Horses and other Livestock Watering needs.

We also carry Replacement parts for HEDSTROM and SIMONSON water bowls, HEDSTROM and SIMONSON Concrete water bowls, HEDSTROM and SIMONSON Livestock Water bowls.


Take the guess work and maintenance out of Continuous Flow on any tank!
Find water tank PARTS at our retails, for any tank, when you see this display!